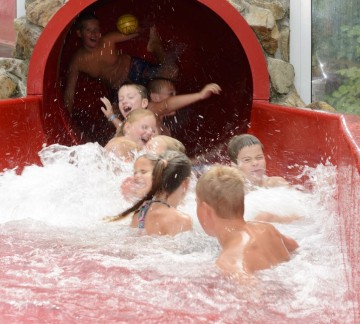 In the swimming pool of Holiday park Ackersate young and old can enjoy a wonderful day during your holiday!
The indoor swimming pool has got four pools.
1. A 10 x 20 recreational pool 140 cm deep with a long fast slide of 45 meters length! Bubbling way on the bubble seat.
2. A 9 x 7 children's pool 70 cm deep. Two slides for extra pool fun and regularly spouting elements. That is fun for young guests!
3. A toddlers' pool with play elements in a mediterranean ambiance for toddlers. The pool measures 7 x 7 and is 10-30 cm deep.
4. A spa pool with lovely warm water. Just relax a moment with your friends and family!
If the weather is hot it's good to be in here. The roof can be opened so you'll enjoy the breeze coming in. Wonderful on warm summer days!
Access
Are you staying at our holidaypark? Of course you can use the swimming pool freely! Using your fingerprint you can get through electronic turnstiles. In order to do so you can have an entrance scan made at reception.
Visitor's of guests pay an admission fee of € 4,-- pp.(from 2 years old)
Swimming for seniors
Every morning between 9 am and 10.30 am swimming for seniors. Are you a senior and would you like to swim but you're not staying at Holidaypark Ackersate? Buy a multiple entry ticket. It will be cheaper.
Celebrate a birthday? You're very welcome at Holidaypark Ackersate. Look at: birthday or children's parties for more information.